The Life and Times of Hubert Brooks M.C. C.D.
A Canadian Hero
---
Chapter 6: Missing Research & Enquiry Service – M.R.E.S.
Section 6.13: M.R.E.S. EPILOG
M.R.E.S. EPILOG
As Missing Research could go on indefinitely, the British government reluctantly concluded there are some whose fate will remain unknown. As such an agreed finishing date for the M.R.E.S. was set by the British Secretary of State. This balanced cost against the likely achievement, and the effect a premature closure might have on the relatives of those whose fate remained unknown.
No. 3 MREU eventually disbanded end of February 1948, No 4 unit end of April 1948 and No 5 unit end of May 1948.
On 17 October 1953, The Queen unveiled the Air Forces Memorial at Runnymede U.K. which commemorates by name over 20,000 airmen who were lost in the Second World War during operations from bases in the United Kingdom and North and Western Europe, and who have no known graves.
Some general news articles appeared in the press from time to time on the M.R.E.S.. A few appear below.
Some Epilog Notes on the M.R.E.S. in POLAND
Although I never made it back to Poland, my friend and colleague S/L Chick Rideal ended up being in charge of the M.R.E.S. search efforts in Poland.
In 1948 Chick was chosen as the only MRES officer allowed into Poland. This was despite having been arrested by the Russians for working on the wrong side of the border in Berlin the previous October. Working out of Berlin (apparantly the last Western officer to leave before the Soviet blockade was imposed), Chick spent the rest of 1948 travelling the length and breadth of Poland recovering more than 400 airmen.
I have appended below some news articles and images from Chick's PHOTO Alblum now residing in the RAF Museum in London Ref: 6.8 .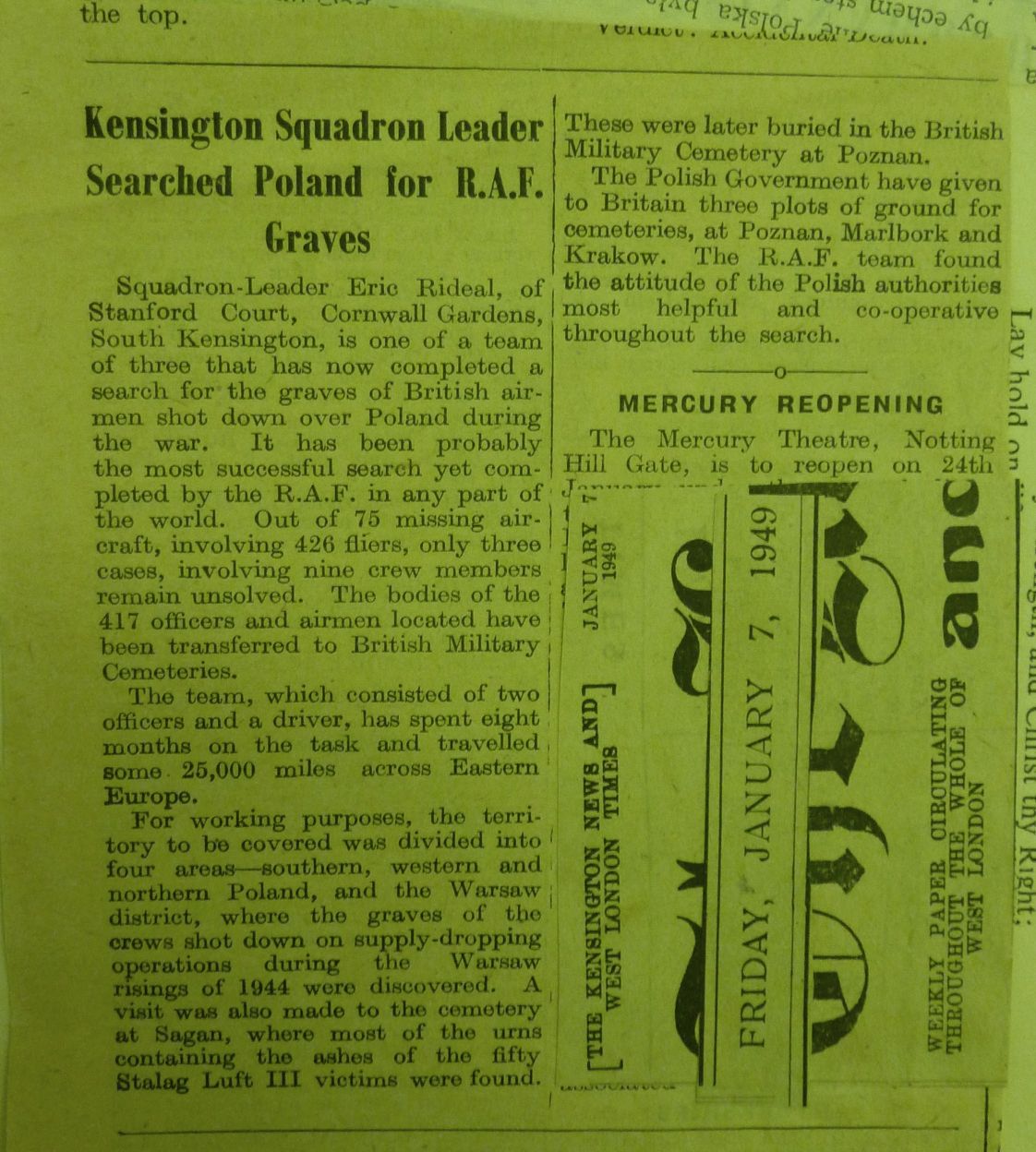 ---
---
---
---
---
S/L Eric "Chick" Rideal was one of the true heroes of the M.R.E.S. He had signed up in 1940 and during the war acted as an administrative officer working his way up to the rank of Squadron Leader. After the war he was one of the first to volunteer for the M.R.E.S. Chick received 5 shillings a day as a S/L (during his time with the M.R.E.S.).
For his outstanding service to his country in his role with the M.R.E.S., Chick was awarded an OBE (Officer of the Order of the British Empire) by the British government.
Following the M.R.E.S. assignment, Chick retired to his flat at 6 Stanfort Court, Cornwall Gardens.
---
The Life and Times of Hubert Brooks M.C. C.D.
---
Copyright © 2011, 2012, 2013, 2014, 2015, 2016, 2017, 2018, 2019, 2020, 2021, 2022, 2023 Ralf Brooks, All Rights Reserved