The Life and Times of Hubert Brooks M.C. C.D.
A Canadian Hero
---
Chapter 1: RCAF: Enlist – Training (Canada/UK) / 419 Moose Squadron First Missions
Section 1.1 : THE JOURNEY BEGINS – ENLISMENT in the R.C.A.F.
&nbsp &nbsp
&nbsp &nbsp
On 17-July-1940 I had applied to be an air crew pilot or an observer with the Royal Canadian Air Force (R.C.A.F.) at the military's St Hubert base just outside of Montreal, Quebec.
I was accepted into the RCAF SPECIAL RESERVE on August 14, 1940 a little more than 4 months shy of my 19th birthday.
---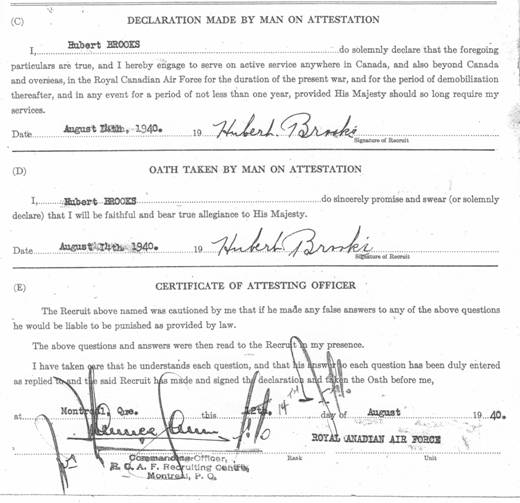 ---
---
My rank was as low as one could go on the totem pole. I was given the rank of AC2 or Air Craftsman 2.
Enrolment with the RCAF Special Reserve meant that at any time the Air Force could terminate my 'employment' with them. Essentially Special Reserve was set up so that once the war was over there was a quick legal procedure to dispense with all of those that had enlisted to fight the Germans. (The RCAF Special Reserve was created by Order-in-Council on 14 September 1939. Aircrew enlistments from early 1940 onwards had to wait until they had been trained to "wings" standard before being either promoted Sergeant or commissioned. Upon enlistment the applicant was given an "R" dog tag number, which they kept unless commissioned. If commissioned, they received a "J" dog tag number regardless of whether the commissioning was immediate or later in their career. Prewar officers had been given "C" dog tag numbers, and other full time officers continued to receive "C" dog tag designation.)
My dog tag number was R56265 and would remain so until January of 1944 when it changed to J94368 when I was promoted to the rank of Pilot Officer.
Now that I had enlisted, the intensive training was to begin. Time was of the essence, for after all there was a war to be fought ....
---
The Life and Times of Hubert Brooks M.C. C.D.
---
Copyright © 2011, 2012, 2013, 2014, 2015, 2016, 2017, 2018, 2019, 2020, 2021, 2022, 2023 Ralf Brooks, All Rights Reserved