The Life and Times of Hubert Brooks M.C. C.D.
A Canadian Hero
---
Chapter 4: Military Awards and The Polish Medals Controversy
Section 4.3: Polish Military Awards
The M.I.9 Hubert Brooks Debrief Report dated 22nd March 1945 concludes�
"Brooks was awarded the POLISH CROSS of VALOUR by Major BOROWY for gallantry in the Field, as well as the POLISH SILVER CROSS OF MERIT WITH SWORDS and he holds a certificate to that effect. Free Poland was grateful for his service and the Polish government in exile (London) confirmed the awards. "
"Brooks speaks quite good Polish and is evidently a resourceful, courageous and security minded person. His cover story to the Russians, as reported in the News Chronicle of 22nd March, was that he had escaped from a German prison camp three days before being over-run by Russians."
(Polish) CROSS OF VALOUR
Awarded for outstanding acts of Military Valour.
The original Polish Certificate is followed below by an English translation of the original and then by a certified English certificate ( who's point will become clear in the next section). A Cross of Valour Identity Card follows.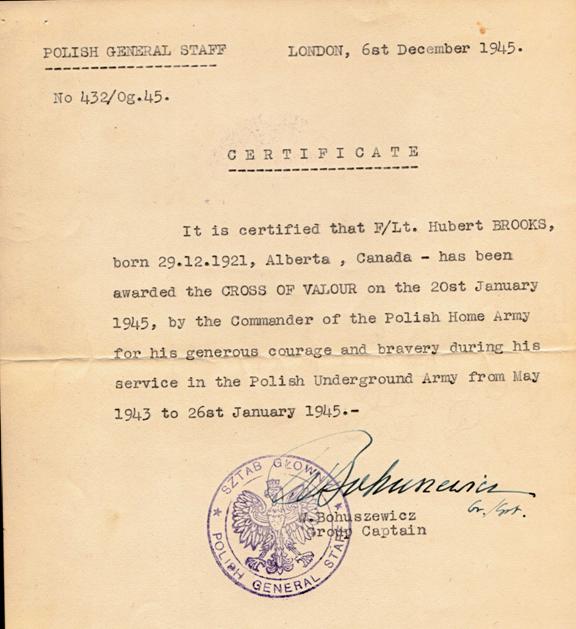 POLISH SILVER CROSS OF MERIT
Awarded to Civilians, Foreigners and Military personnel, for outstanding service to Poland, for acts of bravery, philanthropy and various other meritorious acts.
Polish Home Army ID Card
Polish Commemorative REGIMENTAL MEDAL
After his death, Hubert Brooks' wife Birthe received on March 25, 1993 from the Polish Government:
Commemorative Medal ...... 1st Regiment - Mountain Army Polish Home Army (Resistance)


Certificate (Identity Card) for the above


Polish Resistance Pin (1939-1945)


Polish Home Army Cross (miniature)

Translation (from Polish) of the Commemorative Medal's Certificate Nr. 240:

Left Side
Medal:
Home Army Soldiers
1st Regiment Mountain Rifles

Regimental Units:
1st Battalion Lt. "Andrezej"
2nd Battalion Cpt. "Filip"
3rd Battalion Cpt "Michal"
4th Battalion Mjr "Lampart"
And
Special Units of Sabotage
Division "Kedyw"


Right Side
First Name ..Hubert
Family Name.. Brooks
Pseudonym .... "Jubelt"
Organizational attachment in 1939–1945:
1st Battalion /Canadian/

The above named was a member
of the 1st Regiment Mountain
Rifles of the Polish Home Army
(Resistance) and is entitled to wear
The Regimental Medal

Chief of Staff
"Maciej"
Col. Jan Cieślak
One would have thought that the award of these medals was quite straight forward, given the above documentation. However, nothing is simple or easy when politics enters into play...as we shall see in the next section....
---
The Life and Times of Hubert Brooks M.C. C.D.
---
Copyright © 2011, 2012, 2013, 2014, 2015, 2016, 2017, 2018, 2019, 2020, 2021, 2022, 2023 Ralf Brooks, All Rights Reserved