The Life and Times of Hubert Brooks M.C. C.D.
A Canadian Hero
---
Chapter 1: RCAF: Enlist – Training (Canada/UK) / 419 Moose Squadron First Missions
Section 1.5 : Sent to RCAF 419 Moose Squadron at RAF Forward Base Middleton St George
After my O.T.U. training at Kinross, I was sent on 24th February of 1942 to the R.A.F. base Middleton St. George located in County Durham, five miles east of Darlington, United Kingdom where I joined the RCAF's 419 Moose Squadron.
I had the position of navigator/ bomb aimer (observer).
HISTORICAL NOTE: Ten days before Christmas, 1941, No. 3 Group of R.A.F. Bomber Command acquired its first Canadian Squadron.

The fledgling formation was the third R.C.A.F. heavy-bomber squadron to materialize overseas. Its birthplace was the East Anglian airfield of Mildenhall, Suffolk, and its numerical designation was 419.

The Commanding Officer was Wing Commander John ("Moose") Fulton, D.F.C., A.F.C., a Canadian from Kamloops, British Columbia with seven years service in the R.A.F.

Motto: "Moosa aswayita". Moose attacking.
The moose is a ferocious fighter and is indigenous to Canada. The motto is in the Cree language.

Originally in No. 3 Group of Bomber Command, the squadron joined No. 6 (RCAF) Group upon the latter's formation on 1st January 1943.

From Mildenhall the squadron moved to Leeming, Topcliffe and Croft for short periods before settling down, in November 1942, at Middleton St George, where it remained based until the end of the European war.

Beginning operations with Wellington medium bombers, No. 419 later converted to Halifax heavy bombers and then to Lancaster Xs.

Over a span of roughly three-and-a-quarter years it logged 400 operational missions (342 bombing missions, 53 mining excursions, 3 leaflet raids and 1 "spoof") involving 4,325 sorties from Mannheim to Nuremburg, Malan to Berlin and Munich to Hanover, inflicting heavy damage on the enemy.
One hundred and twenty nine aircraft were lost on these operations.

As a result of its wartime record, 419 Squadron became one of the most decorated units under the R.C.A.F. during World War II including a Victoria Cross (awarded posthumously to Pilot Officer AC Mynarski), 4 DSOs, 150 DFCs, 3 bars to DFCs, 35 DFMs and 1 MC (awarded to Hubert Brooks).

No.419 (Moose) Squadron RCAF
Group
Squadron
Base
County
Arrived
Comments
3
419
Mildenhall
Suffolk
15/12/41
Formed. Wellington IC, 01/42. Wellington III, 02/42. To 4 Group, 13/08/42.
4
419
Leeming
Yorkshire
13/08/42
Ex-3 Group.
4
419
Topcliffe
Yorkshire
18/08/42
4
419
Croft
Yorkshire
30/09/42
4
419
Middleton St. George
Durham
09/11/42
Halifax II, 11/42. To 6 Group, 01/01/43.
6
419
Middleton St. George
Durham
01/01/43
Ex-4 Group. Lancaster X, 03/44. To Canada 04/06/45.
As we waited for assigned missions, things were what I described to my mother in my weekly letters home as "on the easy side for the moment". The R.A.F. Middleton base was very nice, but it was in the middle of nowhere. Our routine was broken up from time to time with six day passes to London and Paris.
I had to be sure to tell my parents about these passes as the media, although restrained from reporting about military activities, felt no hesitation in reporting in the home newspapers about local airmen " Enjoying Paris"!

(The newspaper clipping below perhaps saracastically titled "Enjoyed Paris"; refered to an earlier mission of the "Calgary Kite" aircrew, on March 3-4/42, where a total of 8 aircraft from the 419 squadron were on a raid to the Renault works in Paris (actually Billancourt, although Paris is on the Ops logs) which facility was still building tanks and other war related vehicles. Allegedly the Calgary Kite crew members of Parker and Howard were on this raid and it was the first time they had flown above the clouds and it was a beautiful night. When they got to Paris, because there was no blackout there, Paris was lit up spectacularly and they were all in awe. Easy target that night! Thus the Calgary Kite crew "enjoyed Paris".)

(Despite the news articles below, Hubert Brooks was NOT on this Renault plant bombing run. Neither Brooks' flight log or the 419 Squadron Log shows Brooks on this raid. It seems also that neither McCormack or Callaghan or Norris were on the mission. The press release which was picked up in Canada by a number of newspapers seems to be more of a proganda effort to bring a wider cross section of participants in front of the public. Brooks' first mission was April 5, 1942. However, this Renault Factory raid is where the crew first obtained the "handle" the "Calgary Kite".)
PHOTO Calgary Kite Crew Members Celebrating Earlier Raid on Renault Plant in Paris:
Sgt. Hubert Brooks is far right in photo. (This is probably a stagged Airforce PR Photo and Story developed at the RAF base in England)

Montreal Newspaper Article concerning Sgt. Hubert Brooks and others celebrating Calgary Kite crew raid on Paris.

News Article on RCAF Moose Squadron "Calgary Kite" Crew Raid on
Renault Factory in Paris During WW II

News Article Courtesy: Regina based The Leader-Post dated Friday March 6, 1942
Provided by Dan Logan Moderator of www.419squadronbewarethemoose.com web site
We had unofficially named our aircraft the "Calgary Kite" as our Pilot along with two of our crew were from Calgary (Alberta).
All of us in the 419 were very pleased with the film "Target for Tonight" that was made partially at our base using real airmen as actors. There were many "Canucks" in the film. The film showed an authentic view of the planning and execution of a bombing raid on Germany via a Wellington "F" for "Freddie" bomber aircraft. Each of the aircrafts in our squadron is known by an index letter. My Wellington was known as "N" for "Nuts" and she had been doing a great job. I told my parents in a letter home, that if they wanted to understand what I was doing to go see the film.
HISTORICAL NOTE:
Target For Tonight 1941 (48 mins): During World War 2, the Ministry of Information in Britain took over the GPO Film Unit, and renamed it the Crown Film Unit. They made larger–scale documentaries and feature–length films, the latter being of the dramatised type with servicemen and women playing themselves. "Target for Tonight" (Harry Watt, 1942) was one of the first commercially–successful documentaries. It illustrated processes, in this case how an RAF night–time bombing raid over Germany attacking an oil storage depot in Kiel was actually carried out, AND showed real people. The film revolves for the most part around one crew in a single "F" for "Freddie" Wellington aircraft.
The film went on to win an honorary Academy Award in 1942.
and 'Best Documentary' by the National Board of Review in 1941.
In the Cinematheque Belgique Survey of 1952, director Elia Kazan listed "Target for Tonight" in his top ten favourite films
The film can be now seen for free online (after registering) at the MOVIEFLIX web site.
Editors Note: Subsequently there was another great film made by Monarch Films Inc "The Bomber Boys, the Fighting Lancaster, " a Canadian documentary that pairs the only living full crew of a WW2 Lancaster bomber with their grandsons who volunteered to take the rigorous training their grandfathers went through in Ontario in the 1940s. The Lancaster crew of "The Lucky H" was made up of primarily of Canadians, but also included a Brit, an Aussie and a Yank.
http://www.createspace.com/212912 Episode 1- "The Lucky H"
http://www.createspace.com/212913 Episode 2- "Baker Flight"
http://www.createspace.com/212914 Episode 3 - "Combat"
http://www.createspace.com/212915 Episode 4- "Reunion"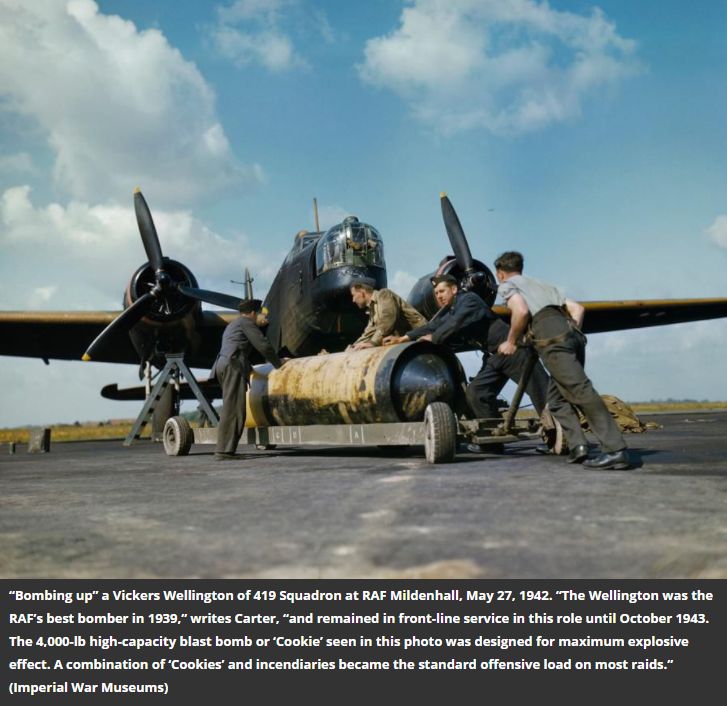 My first practice flight with 419 was on 7–March–1942. We did an air test run lasting about 2 hours with Wellington z 1077 and with P/O Creighton as the pilot. Thereafter all of our X–country, Tr–X Country, E&A Tests etc. were done with Wellington x3467 with P/O Creighton as pilot. It was very important that pilot and navigator–bomb aimer knew each other well and were on the same wavelength at all times.
The Wellingtons we were flying were nicknamed Wimpeys. They had been used by the RAF as their main bomber up till that point in time.
The Wellington (Wimpy) was a large aircraft with a wingspan of 86 feet and had two Bristol Hercules engines. It had a power operated turret in the rear with four 303 Brownings and a two gun turret in the front which the bombardier used.
The strength of the 419 Squadron in April 1942 was approximately:
R.C.A.F. Officers
Aircrew
15
Ground crew
4
R.C.A.F. Airmen
Aircrew
100
Ground crew
154
R.A.F. Officers
Aircrew
5
Ground crew
2
R.A.F. Airmen
Aircrew
4
Ground Crew
216
Early April 1942 I was promoted to the rank of F/Sgt - the rank given upon officially being on active duty with a Squadron.
Our practice flights continued until April–1942. Since my induction into the RCAF I had accumulated a grand total of 200 hrs of day time flying and 110 hours of night time flying.
It was now time to put this training to use!
---
The Life and Times of Hubert Brooks M.C. C.D.
---
Copyright © 2011, 2012, 2013, 2014, 2015, 2016, 2017, 2018, 2019, 2020, 2021, 2022, 2023 Ralf Brooks, All Rights Reserved