The Life and Times of Hubert Brooks M.C. C.D.
A Canadian Hero
---
APPENDIX A – EXTENDED BROOKS FAMILY GENEALOGY
A.15.0 The Joe Brooks Family Line
A15.2 The Joe Brooks Family Story in Alberta
This CHAPTER will focus on the Joseph (Albert) Brooks Family Line.
GENERATION 7
Hubert (Rousseau) Brooks
(b. October 4, 1862)
(d. January 23, 1930)

(m. January 7, 1884) wife:

Marie (Grégoire Rousseau) Brooks
(b. November 03, 1867)
(d. September 3, 1944)

GENERATION 8
(Joseph) Alfred Brooks
(b. Feb. 18, 1891)
(d. May 13, 1944)
Joseph (Albert Antoine) Brooks
(b. Dec. 20, 1901)
(d. Jan. 8, 1982)
Otto (Hubert) Brooks
(b. Nov 10, 1903)
(d. Oct 26, 1969)
Aimé (Hubert) Brooks
(b. May 17, 1895)
(d. Jan 15, 1952)
Marie (Theodora) Rousseau Brooks
(b. Sept. 25, 1887)
(d. Aug 8, 1970)
Marie Eugénie Nelida Brooks
(b. Jan. 12, 1885)
(d. Oct 12, 1937)
Siffroid Rousseau
(b. Dec. 25, 1884)
(d. ?? 1892 to 1910)
Marie-Anne Séduile Juliette Brooks
(b. Jan. 5, 1893)
(d. Jan. 6, 1893)
Joseph (Albert Antoine) Brooks
(b. Dec. 20, 1901)
(d. Jan. 8, 1982)

(m. June 20, 1932) to wife:

Bertha Chailler
(b. Nov 29, 1905)
(d. June 23, 1996)
GENERATION 9
Jeannine Brooks
(b. Aug 26, 1933)
(d. )
Irene Cecile Brooks
(b. June 13, 1935)
(d. Mar 31, 2011)
Gerald Brooks
(b. Nov 3, 1937)
(d. Oct. 3, 2015)
Robert Brooks
(b. Mar 29, 1940)
(d. )
Philip Brooks
(b. Mar 3, 1943)
(d. )
(Alfred) Hubert Brooks
(b. July 25, 1944)
(d. )
Yvonne Brooks
(b. Aug 2, 1946)
(d. Feb 26, 1952)
Jeannine Brooks

(m. Dec 31, 1947) to husband:

Joe Roy
(b. Nov 9, 1926)
(d. July 19,2018)
Irene Cecile Brooks

(m. Dec 24,1954) to husband:

Gerard Bonnamour
(b. Jan 24, 1934)
(d. )
Gerald Brooks

(m. Aug 14, 1965) to wife:

Pauline Barteski
(b. )
(d. August 14, 2012)
Robert Brooks

(m. Dec 5, 1964) to wife:

Alice Smith
(b. )
(d. Apr 27, 1983)
Philip Brooks

(m. Sept 9, 1967) to wife:

Carol Burnyeat
(b. Aug 11, 1943)
(d. )
(Alfred) Hubert Brooks

(m. Feb 14, 1976) to wife:

Liliane Patenaude
(b. May 1, 1949)
(d. )
GENERATION 10
Roy Family:

Lise (b. Feb 1958)
Lynne (b.Apr 1959)
Richard (b.Jan 1963)
Gary (b. Mar 1964)
Bonnamour Family:

Michel (b.Jun 1956)
Marcel (b.Feb 1960) (d. Aug 10, 1961)
Dianne (b. Aug 1962)
Lori (b. Apr 1966)
Robert (b. Apr 1970)

Gerald Brooks Family:

Debbie (b.May 1959) (d. Dec 2, 1969)
Daryl (b.Dec 1961)
Dean (b. Sept 1965)
Shawn (b. Sept 1966) (d. Feb 7, 1967)
Robert Brooks Family:

Bobby (b.June 1968)
Ian (b. Nov 1971)

Philip Brooks Family:

Shalaume (b. Nov 1967)
Lelaine (b. July 1970)

Hubert Brooks Family:

Geneviève (b. Mar 1978)
Yannick (b. June 1980)

The 1921 Canada Census (circa June 1921) had Joe, aged 19, living with his parents Hubert and Marie and his younger brother Otto (aged 17) at Hubert's farm just south of Bluesky.
In 1921 Joe Brooks purchased property of his own adjacent to the family's, and in June of 1932 married in Bluesky a French-Canadian girl named Bertha Chailler (b. Nov 29, 1905 in Chartierville QC).
'GrandMa' Marie Brooks & Joe Brooks
Photo Courtesy: Phil Brooks
Jeannine Brooks with father Joe Brooks In Bluesky
Photo Courtesy: Jeannine Brooks Roy

Jeannine (Brooks) Roy age 2 on horse "Molly"
with Joe Brooks attending circa 1935
Photo Courtesy: Phil Brooks
Robert (Bob) & Jeannine on Joe Brooks Homestead in Bluesky
Water Dugout Seen in Rear of Picture
Photo Courtesy: Jeannine Brooks Roy

Bertha in Bluesky
Photo Courtesy: Jeannine Brooks Roy

Children in Xmas Costumes in Bluesky at Grandma Marie Brooks' House
Irene, Robert, Jeannine
Photo Courtesy: Jeannine Brooks Roy

Joe Brooks (with hands on hips) and Friend Verne Debolt and Huskies
Taking Children for a Ride in Bluesky

Joe Brooks Children Bluesky
Back Row: Jeannine, Irene
Middle Row: Robert, Gerald
Center Front: Philip

Bertha, Yvonne, Joe in Bluesky
Bluesky: June Brooks, Jeannine, Irene, Gerald
Front: Connie Wyness
(who Jeannine took by the hand and walked to school each day)

Bluesky: Joe Brooks Threshing Unit
The crew of this steam Threshing Unit consisted of an engineer,
a fireman, a waterman – who hauled water to supply the steam engine,
a separator man, who kept the separator oiled adjusted and repaired,
several men with teams and wagons to haul sheaves from the field to
the machine, two foeld pitchers to help unload. In addition there were
occasionally two men with a wagon to haul the threshed grain from the
machine to the granary. Hours were long from daylight (5:30am) to dark
(about 8:30pm) and the only holidays were those days when the grain was
too wet to thresh or when the machine broke down. Good weather had to be
used to maximum advantage.

Photo Courtesy: Whitelaw and Surrounding Districts
Where The Cold Spring Flows p798
The end of the Brooks' Bluesky dream started with the depression of the dirty thirties which hit the homesteaderws hard.
The price of wheat dropped to twenty cents per bushel. For a number of years, Joe had contracted Hans Struck from Denmark to farm portions of his land. But with yields dropping, that luxury quickly stopped. The farmers, with no money to buy fuel for their cars and tractors, fell back to horses. Many a useless motor was removed from the car and a tongue and double-tree attached so horses could be hitched to the conveyance. (Thus the birth of the Bennett Buggy, a derisive reference to the Prime Minister of Canada, who was blamed for the situation.)
1935-1936 brought the coldest winter on record with unprecedented blizards hitting Alberta. The summer of 1936 was even more devastating with only a negligible grain crop produced.The grass hoppers ate everything that tried to grow. With crop failures year after year, incomes dropped drastically taking a heavy toll on human spirits and some of the pioneering families were forced to move away.
The Brooks families were amongst those that left and moved east to the cities.
In 1946, the Joe Brooks family moved from Bluesky south east to Falher – located in the Smokey River Region of Alberta's Peace District. Otto Christian (Chris) Eriksen (from Aalbad Denmark) bought Joe Brooks' farm when the Brooks' left the area and moved to Falher.
Philip Brooks wrote the following JOE BROOKS FAMILY STORY for the Falher History Book:

"In the summer of 1946, with all our belongings packed into the truck box of Uncle Joe and Cecile (nee Chailler) Boisvert, the Brooks traveled from Bluesky to their new home in Falher.
Some of the Joe Brooks Children in Falher
Left to Right: Bob (holding dog Lassie), Jeannine (holding dog Prince), Gerald (with his horse), Hubert. Philip is in Front.
Photo Courtesy: Jeannine Brooks
They bought a big farmhouse from a family a few miles north of town and had it skidded onto the lot opposite Pepere & Memere Chailler and Octave and Marguerite Chailler families. With the closeness of the three families, as well as the numerous other Chailler's in town this was the gathering place.
I like to recall our end of town (the far end of Gamache Street) as 'Chailler Town'. What wonderful memories we have. We could always expect an extra plate or two at the table on any given day. Even though Pepere & Memere's house burnt down in the early 50's, they rebuilt on the spot and the tradition continued.
For Mother, the move to Falher was a return, as she had lived with her family on the farm 1 mile west of town. She was born in Chartierville Quebec on November 29th, 1905. With her family, she moved to Alberta in 1911. They lived in Brosseau, Duverny, Morinville and Bluesky before moving to Falher.
Dad (Joe) and his brother Otto owned a general store in Bluesky for several years.
It was in Bluesky that Mom & Dad met and married in June of 1932. Soon the family started to grow.
Jeannine was born Aug 26, 1933 on the farm in Bluesky, Irene, June 13, 1935 also on the farm in Bluesky, Gerald, November 9, 1937 also on the farm in Bluesky, Robert, March 29, 1940 also on the farm in Bluesky, Philip, March 3, 1943 also on the farm in Bluesky, Hubert, July 25, 1944 in Fairview Hospital, Fairview Alberta; and Yvonne, August 2, 1946 at McLennan Hospital in McLennan Alberta.
Joe Brooks Family 1959
Front Row Left to Right: Irene, Bertha, Joe Brooks, Jeannine.
Back Row Robert, Philip, Hubert, Gerald
Joe & Bertha Brooks Falher
Upon arriving in Falher, Dad started work as a grader operator with the Municipality of Smokey River. How he was able to raise a family of six kids working for the wages of the day still escapes me. Many is the day that I recall Mom sending one of us to the municipal office for an advance of a few dollars to make it to next payday.
Things really took a turn for the worst in the early 50's when dad became ill and was hospitalized. Adding to the dilemma was Yvonne and Hubert becoming ill also. This of course was well before such things as "sick pay", Medicare, and any kind of social assistance. But we survived, and the Brooks Family will always be grateful for the kindness and generosity of the Chailler family. In particular Aunt Margarite and Uncle Octave for sharing whatever they could from their farm. Faced with no income and mounting hospital bills, Mother took to having boarders. The boardinghouse style of living continued for many years and became the way of life while growing up. On top of the six children, it was not uncommon to have five or six boarders. I know Mom never made any money from having boarders, but it was her way of keeping everybody fed. Those of you with any kind of memory will recall that I was particularly well fed.
No doubt the "boarding house lifestyle" brought about an early rough demeanor to the Brooks Boys character. Living with many of the "roughnecks" (as Mom called them) exposed us at early age to behaviors not tolerated in a traditional home setting, However, we prefer to think that the exposure to the mild mannered long time residents like Philip Deschambre, Paul Aubin, and August Lefebre, and others, were a very positive counter balance to the roughness. Mom had no tolerance for swearing, particularly at the dinner table. She made a bit of a side income (especially from long time resident Joe Nadeau) by having them contribute to the nickel jar every time they offended.
For as long as I can remember we shared our front yard with a bachelor named Joe Allarie. He was a great old guy despite how much we teased him. He had a history of being a "rum runner" from the Prairies during Prohibition days. Next to him were Gaston & Blanche Gervais. We grew up with their three children, Edouard, Doris and Louise. Ed was my best friend through childhood and the best man at my wedding. The rest of the street towards town was heavily treed until the hockey arena was built.
Joe & Bertha Brooks Family Photo Circa 1960
Front Row: Lynn, Michael, Lise, Marcel
Second Row: Jeannine, Joe Brooks, Bertha, Irene
Back Row: Joe Roy, Hubert, Philip, Robert, Gerald, Gerard Bonnamour
Photo Courtesy: Phil Brooks
The building of the arena had a major impact on the Brooks family. Bob, though only twelve years old, dug several of the holes for the footings (for a fee of course). From it's opening day, it became the center of gravity for Bob, Philip and Hubert.
Hockey was a total preoccupation and when not on the ice in the arena, it was road hockey or shinny at the small open-air rink at the school. Summers were spent at the ball park directly behind the Brooks' house. Dad watched many a ball tournament sitting on the back porch.
Dad was a great prankster, and very often, the instigator of some drama that would unfold some time during the evening or the middle of the night. He was also a great story teller and the bench on the back porch was a great place for him to entertain many of the neighborhood kids with his enthralling stories. To this day, we are often reminded by the many who recall sitting on the back porch, certain that "the Indians were soon to attack or the bears were scratching at the back door."
Jeanine married a local Falher boy, Joe Roy (who was born in Spirit River Alberta). Joe had a trucking business in Falher for several years and they later moved to Edmonton area and, as of 1980, resided in Beaumont Alberta (just south of Edmonton). In Beaumont Joe and family started a new chapter, where he eventually worked as an equipment and vehicle mechanic for Desco Coatings which, amazingly, lasted for more than 49 years. Joe's hard work ethic kept him always busy, not fully retiring until early June 2018 at age 91 (working 1 day a week for the past few years).
Joe's early farm life is where he developed his passion for music. Old-time fiddling and dancing, especially their traditional French-Canadian "gigue" were talents shared by his whole family.
It was their mutual love of music which brought him together with the love of his life, Jeannine. Wherever he could, Joe found a way to keep music alive in his life and with his family. As a fiddler, banjo and guitar player in a band with Jeannine on vocals and guitar, The Roys hit the hot spots in the dance halls of rural Alberta on many an occasion. The family also enjoyed many music sessions with his brothers' and sisters' families whenever they could get together.

Joe's marriage to Jeannine would last more than 70 years and would bring 4 children into the world. He was profoundly loved by his children and they know how much he loved them too.

Lise (now Mrs. Lise Roy-Maxwell) who married husband Jeffry Maxwell Sept 4, 1987. The couple have one son,

Alexandre (b. 1997);

Lynne who married husband Neil McCrank June 9, 1979. The couple have 3 children:

Cariss (b. 1980),
Timothy (b. 1982),
Taryn (b. 1985);

Richard (now in Ottawa and an Air Force pilot for past 23+ yrs).
Richard married Audrey Balay Dec 8, 1982. The couple had 2 children:

Thomas (b. 1983),
and Carmen Nicole (b. 1984).


Richard re-married to Cathy Lynn Foster and they have had one child:

Cecily (b. 2002)

and Gary.

Photo of Jeannine Brooks on Joe Brooks Homestead in Bluesky

Jeannine Brooks in Cabbage Patch on Joe Brooks Homestead in Bluesky
Jeannine (Brooks) Roy with with Husband Joe Roy
50th Wedding Anniversary - 1997
Photo Courtesy: Jeanine (Brooks) Roy

Jeannine (Brooks) Roy with Great Grandaughter
Lily Anne at 5 Months
Photo Courtesy: Jeannine (Brooks) Roy

Joe Roy on the fiddle
Photo Courtesy: Jeannine (Brooks) Roy

Photo of Joe and Jeannine Roy

Joe Roy
Photo Courtesy: Jeannine (Brooks) Roy
Irene (Brooks) Bonnamour and Gerard (Gerry) Bonnamour
Photo Courtesy: Jeannine Roy
Irene married a Girouxville boy, Gerard Bonnamour .
Irene
Gerard worked in the oil patch for several years. They later moved to Grand Prairie where Gerard worked as a crane man building bridges for the Ministry of Highways. They later returned to farming on land adjacent to the old Bonnamour farm north of Girouxville. They had five children:
Michel who married Lise Thibeault. The couple have had 2 daughters:

Danielle (b. 1975)
and Kristen (b. 1981);

Marcel (Marcel died as a baby, in a tragic accident at the farm.),
Dianne who has one son

Jordon (b. 1982),

Lori who has 3 children:

Brandon (b. 1988),
Caylen (b. 1990),
and Jodie (b. 1992);

& Bobby who married Anne Bégin on Nov 9, 1996. The couple have 2 children:

Evan (b. )
and Amélie (b. ).
THE JOE BROOKS DAUGHTERS.
| | | |
| --- | --- | --- |
| Jeannine and Irene in Bluesky | Jeannine, Yvonne, Irene | Yvonne in Falher |
Gerald married a Saskachewan girl, Pauline Barteski. Gerald followed in Dad's footsteps and has been a road grader operator for over 50 years. He first worked at the Smokey River District with Dad but then moved on to heavier construction in the Edmonton and Cold Lake area. Gerald had a fine singing voice and was always called upon to entertain at any and all gatherings. Like all popular singers there was one song in particular demand. No one could sing "The Auctioneer" like him. Gerald and Pauline lived in Ranfurly Alberta. Pauline had two children from a previous marriage, and Gerald and Pauline have had two boys from their marriage. Pauline passed away on August 14, 2012 and Gerald on Saturday, October 3, 2015 at Ranfurly, Alberta.
From Pauline's first marriage:

Debbie (b. May 1959) (d. Dec 1969)
and Daryl (b.Dec 1961).
Daryl has two sons from a previous marraige,

Daniel
and Tyler

Daryl then married Rosalinda Capozzo, January 25 2003.

And the children from Gerald and Pauline's marriage:

Dean who married Kathy O'Neal
and Shawn who died sadly Feb 7, 1967 less than a year after being born.

Gerald and Wife Pauline July 2011

Gerald with Favorite Horse
A favorite family story has been told many times about how young Gerald had hitched up his team of horses with rope and a couple kitchen chairs and whipping them shouting "giddup you S. O . B." but when reproached by his Mother about his language he explained that; "that was what Uncle Paul (Grégoire) always said " !

Gerald with Guitar

Gerald Singing at Bob Bonnamour's House July 2011

Gerald at home in Ranfurly, Alberta
Robert married Alice Smith of Sherbrooke Quebec. Bob left Falher to pursue a hockey career- first playing in Edmonton and then Lethbridge, before attending a Detroit Red Wings training camp in the late 50's. He played for many years in cities and towns across Canada, several of them in North Peace Hockey League. Bob became a Millwright and worked at his this trade until retirement. Alice passed away April 27, 1983. Bob resides in the Edmonton area. Alice and Bob had two sons,

Bobby who married Meagan Mackinnon on Sept 1, 2001. The couple have 2 children:

Devon (b. 2005)
and Austin (b. 2008)

and Ian who's married to wife Andrea. The couple had twins:

Hanna (b. 2008),
and Holden (b. 2008).
Ian has a wonderfull son Riley (b. 1996) from a previous marriage.

Bob and Wife Alice circa 1964
| | | |
| --- | --- | --- |
| Bob in Pirates Hockey Attire | Robert, Alice and young son Bob | Bob Relaxing in Girouxville July 2011 |
Robert Brooks (2nd from left) with Former Team Mates and Allan Cup
(Bob had to leave the Team prior to the Cup Win)
Philip married a Calgary girl, Carol Burnyeat. Phil left Falher to serve in the Canadian Armed Forces as a Medic. Following his discharge he worked as an orderly in several hospitals across Canada. In 1969 he took the NAIT Respiratory Therapy Program and still works in that trade today. They live in Fruitvale BC. Carol & Phil have two girls,

Shalaume who married Don Leslie Feb 25, 1995. The couple have 2 daughters:

Emma (b. 1998)
and Jillian (b. 2001)

& Lelaine who married Bruce Hamilton on Jan 11, 1995. The couple have 2 children:

Danielle (b. 1995)
and Michael (b. 1997)

Phil and Wife Carol July 2011

(Alfred) Hubert Brooks & Philip in 2008
Picking merlot grapes in wine fertile country of Columbia Valley Washington
Photo Courtesy: Phil Brooks

Phil Brooks and grand daughter Emma Leslie 12-Nov-2009
Posing For Trail Times Newspaper Photo on Emma's School Project on:
'The Story of Hubert Brooks – My Canadian Hero'
Photo Courtesy: Trail Times Newspaper
Hubert married a Montreal girl, Liliane Patenaude on 14 Feb 1976 at St-Justin, Montréal Quebec. Hubert began working for the Bank of Montreal in Falher following his high school graduation. He then moved on to Calgary for a short while, and then on to Montreal. He retired from the BMO after 40 plus years and lives in Bourcherville Quebec. They have two children,

Geneviève whose spouse is Frederic Currier. The couple have one daughter:

Mia (b. 2010)

& Yannick (now working in China.)

Hubert and Wife Liliane (Lily) Oct 2010


Side Story: The Boucherville (Alfred) Hubert Brooks has commented that "Alfred and Laura's son Hubert Brooks was a hero to the family as he grew up and he still is. His sister Jeannine is steadfast in affirming that his name arises directly from the fact that Hubert Brooks was MIA overseas and presumed dead in 1943, the year preceding his birth. His full name Alfred Hubert Brooks was decided in honor of Alfred Brooks (recently deceased) and Hubert Brooks."
| | | |
| --- | --- | --- |
| Hubert in Falher | Hubert in Girouxville July 2011 | Hubert Birthday July 2011 |
Bertha & Joe Brooks at 40th Wedding Anniversary
Photo Courtesy: Phil Brooks
Yvonne passed away Feb 26, 1952, after heart complications from rheumatic fever.
Dad (Joe Brooks) passed away peacefully at home in his sleep on January 8th, 1982 less than a month after his 80th birthday. He was sitting in his favorite Lazy Boy chair sipping coffee from a china cup (Joe used a china cup whether it was tea or coffee) watching Canada AM as he did most every morning.
Mom (Bertha Chailler) continued to live at home for a further 10 years after Dad died. She loved to craft things for all of us. There are countless bedspreads, doilies, photo albums from old cards, and knitted slippers, a pair of which I still wear daily. Mom also passed away peacefully at the McLennan nursing home, on June 23nd 1996."
Irene Cecile (Brooks) Bonnamour passed away on March 31, 2011. Family and friends held a memorial service for Irene on Saturday July 23, 2011 at Notre Dame de Lourdes Roman Catholic Church, Girouxville, Alberta.
Irene's Brothers and Sister at the Memorial
Left to Right: Hubert, Jeannine, Bob, Gerard, Phil
Obituary
Joseph (Albert) Brooks
Joseph (Joe) Albert Brooks passed away at his home in Falher on Jan. 8, 1982.
Born Dec. 20, 1901, in St. John, North Dakota, Mr. Brooks moved to the Peace River country with his parents in 1915. The family, which consisted of parents Hubert and Marie Brooks, along with three other sons, Aimé, Alfred and Otto, established a general store in Bluesky, as well as a homestead nine miles south of Bluesky along the banks of the Burnt River.
In 1921 Joe Brooks purchased property of his own adjacent to the family's, and in 1932 married Bertha Chailler.
In 1946 they moved with their family to Falher, where he became employed as a grader operator, initially with the Department of Public Works, but later and until his retirement in 1967, with the Municipal District of Smoky River.
He was predeceased by his father, Hubert, in 1930; and his mother Marie, in 1944; his sisters. Nelida Bolstead in 1937, and Dora Warren in 1970; his brothers; Alfred in 1943, and Aimé in 1952, and Otto in 1969; and a daughter Yvonne in 1952.
Mr. Brooks was survived at the time by his loving wife Bertha in Falher; his daughters Jeannine Roy in Edmonton; Jane Bonnamount in Grande Prairie; his sons, Gerald in Ronfarly Alta: Robert in Riley Alta.: Philip in Fruitvale B.C..; Hubert in Montreal; 16 grandchildren and three great grandchildren.
Funeral services were held in the Falher St. Anne Catholic Church, and interment was at the Falher Cemetery. Father Frigon officiated. The alter. boys were Fernand and Lionel Chailler. The pallbearers were: Michele Bonnamoure, Daryl Brooks, Rick Roy, Gary Roy, Dean Brooks and Bobby Brooks. The cross bearer was Lise Roy.
****
From Phil Brooks:
Joe & Bertha Brooks were Peace River Pioneers.
No greater people have walked these hills,
This mighty country has grown for from their skills.
They are never far from their loved ones minds,
they are always near,
in the smell of the earth
and the wind in the pines.

Falher Cemetary
Headstone's for Joe and Bertha Brooks, and for Yvonne Brooks are located in the Falher Cemetary.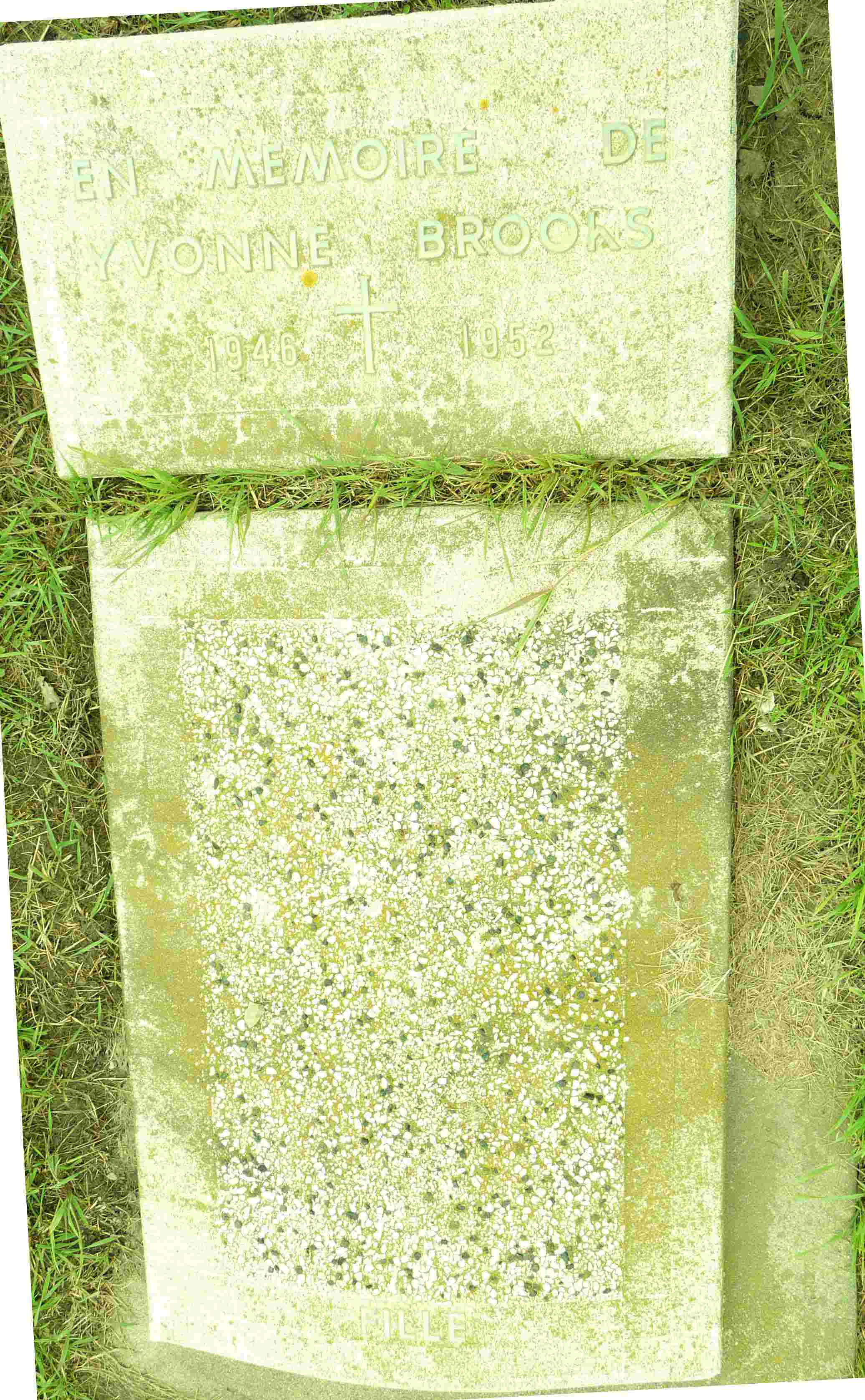 Family Get Together July 2016 at Shaw's Point Resort at Slave Lake Alberta
Descendants and Relations of Joe Brooks circa July 2016 Slave Lake Alberta

Front Row: Austin & Devon (Bob & Megan), Tessa (Carmen & Darcy), Jilly (Shalaume & Don), Bianca (Carmen & Darcy), Hanna & Holden (Ian & Andrea), Mia (Genevieve & Fred), Amelie (Bob & Anne),
Cecily (Cathy & Richard), Emma (Shalaume & Don)

Second Row: Gerard Bonnamour (Irene), Hubert Brooks, Jeannine (Brooks) Roy, Carol (Philip), Philip Brooks, Paul Chailler

Third Row: Rosalinda (Daryl), Genevieve (Hubert & Lilliane), Lilliane (Hubert), Darcy (Carmen), Carmen (Jeannine & Joe), Michael (Lelaine) & girlfriend Jennah, Lelaine ( Philip & Carol), Jeanne Chailler (Paul),
Shalaume (Philip & Carol)

Fourth Row: Alexander (Lise & Jeff) & girlfriend Emilie, Lise (Jeannine & Joe), Megan (girlfriend of Daniel), Dean (Gerald & Pauline), Kathy (Dean), Daniel (Daryl), Tyler (Daryl), Bob & Anne Bonnamour,
Thomas (Richard Roy)

Back Row: Don (Shalaume), Daryl (Gerald & Pauline), Danielle (Lelaine), Dianne (Gerard & Irene), Jeff (Lise), Evan (Bob & Anne Bonnamour), Ian (Bob Brooks Sr), Andrea (Ian), Bob Brooks (Bob Brooks Sr),
Meagan (Bob Brooks)

Missing : Fred (Genevieve's husband)
---
The Life and Times of Hubert Brooks M.C. C.D.
---
Copyright © 2011, 2012, 2013, 2014, 2015, 2016, 2017, 2018, 2019 Ralf Brooks, All Rights Reserved